French ICO Regulations: Gilbert Reveillon, CNCCEF, Gives His Opinion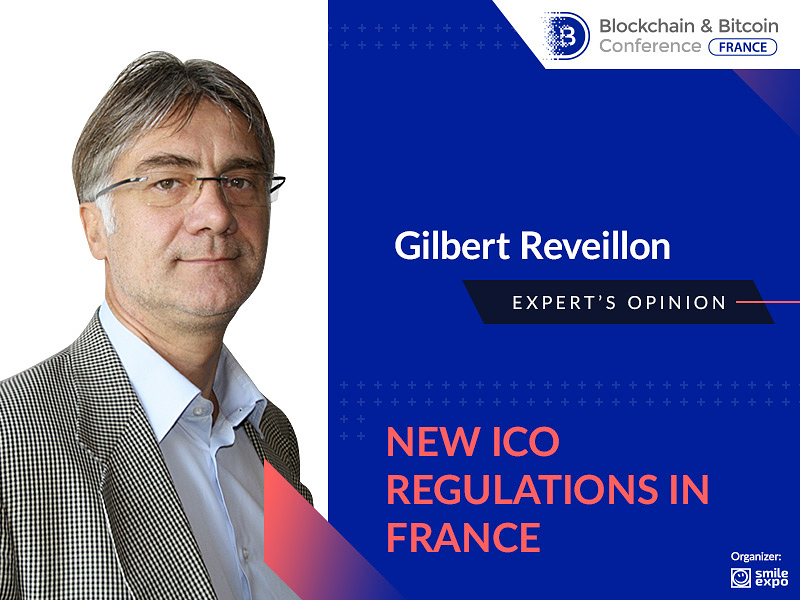 As France aims at becoming the leading cryptocurrency country, it also wants to be the first in the list of ICOs destinations. This way, French Autorité des Marchés (AMF) and the Treasury are planning to attract new interesting projects to the country.
Recently, the government's officials have announced that new regulatory rules will be set by the beginning of 2019.
The law firm Kramer Levin has published a report which clarifies that the Book V, Title V of the French Monetary and Financial Code will get new additions. Chapters 'Intermediaries in Miscellaneous Property and Token Issuers' and 'Token Issuers' will describe the new rules regarding ICOs in details.
ICO will be defined as any kind of the offer to public to purchase tokens. Offers to a small number of buyers stay excluded. According to the new legislation, all token buyers should be able to get access to the information about the financed project's status and appearance of tokens secondary market.
The law firm commented on the new rules stating that they significantly differ from regulations imposed in other countries. Kramer Levin describes France as a unique framework proposer.
The bill should be received by the French Council of Minister this month. Parliament is expected to get it in fall, and the rules are planned to be enforced by the beginning of 2019.
We decided to ask the expert's opinion about the new regulations in France. Gilbert Reveillon, President of the ICT & Digital Economy of the CNCCEF, has evaluated the proposed rules.
Questions for expert:
1. Kramer Levin states that the French rules are very different from the Swiss and US ones as France proposes a brand-new regime. Do you think any other countries have done something similar to that before? Or is France truly becoming the leading innovative country?
G.R.: Comparing France with other countries is easy when the hunt is on in the USA with "operation crypto sweet" engaging a special punitive cyber task force from NASAA (North American Securities Administrators Association) and they are even reported to have created a fake ICO website to teach investors a lesson. Obviously, lobbies are very strong everywhere, but still France has managed to come back at the forefront of the ICO landscape. On June 12, the UK Financial Conduct Authority (FCA) is also reported to have written to all the UK bank CEOs over the "risk of facilitating financial crimes which are enabled by crypto assets", unlike if 80 years of information asymmetries between issuer and investor, or lack of guarantees that issuer's promises will be fulfilled or if fraudulent issuers that scam investors out of their money… All of these 3 majors issues have never existed...
On the opposite, French Minister of Economy confirmed again, on June 25, the government determined will to put France at the forefront of the world's most facilitating country for BlockChain, Tokenization and ICOs! There are legal and administrative frameworks aligned with these political ambitions, as we all recognize our French President. We are a country that does not fluctuate anymore, foot striping the world challenge along with milestones such as successfully operating STATION F: the world's biggest startups' incubator, which in turn just launched last week and added to it the biggest accelerator dedicated to the BlockChain ecosystem in Europe (Chain Accelerator with French and international bespoke mentors & experts): all is in order now to build a more attractive FinTech place in Paris and overall France.
We enjoy one of the most vibrating and unique regulatory sandboxes, allowing, since early 2017, many French and European players to sign the self-regulatory and officially coordinated ICO Charter led by amazing entrepreneurs such as Laurent LELOUP from CHAINEUM. One of the most compelling initiators of clarifying usages of strict KYC procedures on any ICO contender using his boutique…
Even if the main governmental announcement is officially due for the early fall 2018 with the AMF Visa to operate well-regulated ICOs, what we can witness already is enhancing a relevant and well-coordinated pro-active relationship of blockchain funding projects with the French Authorities (AMF, ACPR etc.)… Much different from the Chinese ICO's Ban or the US SEC repressive & ICO hunting approach… What we expect now as soon as the AMF's visa procedure is issued and as would say one of our most expert lawyer Cedric DUBUCQ "we can also expect French Banks to be positioned more safely on this new business segment and soon follow through these very few Swiss banks".
To conclude on this question, innovative and disruptive changes are in the air and France wants, along with many industry stakeholders, moving forward in achieving this goal of worldwide leadership, embedding by design and by law what are the most advanced KYC, anti-laundering management criteria to run a full-fledged and legally compliant ICO. All the ecosystems in France, but also in Europe, will benefit from this leverages.
2. What benefits do you think ICO issuers in France will get compared to issuers in other countries?
G.R.: The revolution of the French Fintech landscape really started back in 2016 with Loi MACRON (at the time he was minister of Economy) structuring not just legal matters about finance but also how the French regulators will behave in the future… Out of these first sets of laws, the crowdfunding ecosystems were enabled to benefit from a real rupture in France, aligning France with the best worldwide practices. Another great threshold came on board with the "ordonnance of April 2016" dealing with "bons de caisse" titles, likewise in December 2017 with another set of facilitating measures.
Today, it's clear to stakeholders, including traditional VCs and Investment funds, that the AMF Visa will enhance cleared projects leveraging all the tools available to raise funds and more specifically empowered tokenization processes. All ICOs from the world could trigger these benefits in France and use our country as a gateway to Europe and far beyond. The FinTech landscape will change dramatically, regulators for once in history will propel new businesses and allow new paradigms and business models to be deployed with no fear to face a "recall" from the legislator (e.g. USA, China)… The administration and management of the sandbox exit will benefit all stakeholders and more specifically entrepreneurs, innovators and disruptors.
3. Evaluating the general French regulatory framework, do you think the country is likely to impose other rules in the near future?
G.R.: Part of the attractiveness of distributed ledger systems, such as BlockChain, lies in transcending law and regulation. From the technical perspective, DLT is seen as offering unbreakable security, immutability and unparalleled transparency… But laws and regulations are necessary for a safe and great environment to prosper in the long run.
As says again this forward-thinking expert lawyer Cedric DUBUCQ, "only the primary market ought to be regulated, which is a position stand point, but only one step in a longer process. The secondary market dealing with Exchange Platforms has to be regulated in due course". The French economy needs to enjoy a full-fledged ICOs economy dealing with both primary and secondary market. As claimed by Chaineum CEO, Laurent LELOUP, "we need a true transparent environment towards investments and, therefore, the much acclaimed legally secure market… A legal leap frog for ICOs in France is compulsory for credibility of the political and legal challenges done by France, our country, our President Macron, but all the engaged chambers being the Assemblée Nationale (having its own BlockChain and ICO task force engaging thorough public consultation and dissemination over 2 years already) and the Senat itself engaged in educating and empowering both the political staff and the legislative arena. Great time ahead of us after such a great preparation job…
Gilbert Reveillon will also explain other reasons why France is different from other countries regarding its Blockchain environment at the Blockchain & Bitcoin Conference France.