What unites the great French revolution and blockchain?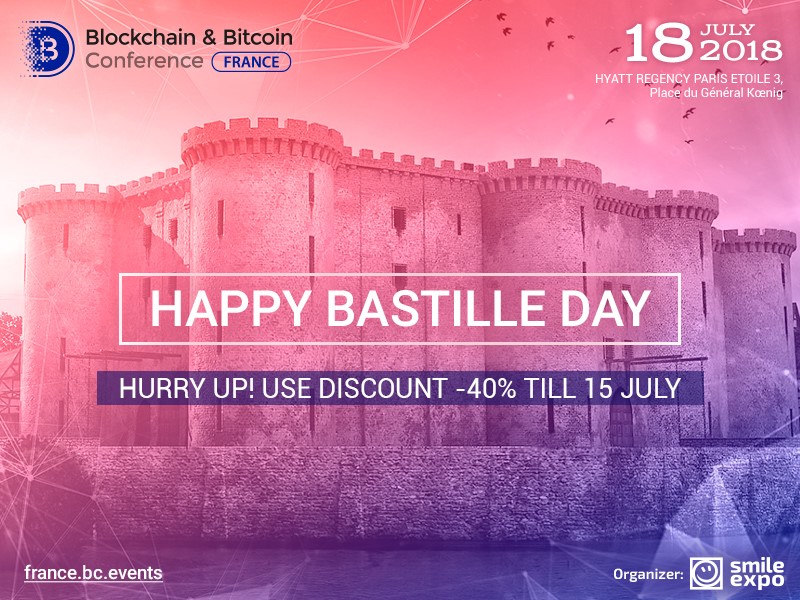 To celebrate the Bastille day, we offer a 40% discount on participation in Blockchain & Bitcoin Conference France (July 18). Hurry up, the groundbreaking discount is valid for four days only!
The Parisian popular revolt of the late 18th century marked the beginning of a new life for the country. The development of blockchain technologies in France also resembles a revolution. And the motto 'Liberty, equality and fraternity' perfectly describes their nature: transparency of transactions, guarantee of fair transactions, freedom of monetary assets management.
Let's speed up the revolution and celebrate both events!
To celebrate the National Holiday of France, get tickets to Blockchain & Bitcoin Conference France, a revolutionary blockchain event, with a 40% discount!
The special offer is valid from 10 to 15 of July inclusive. So:
Price without discount is 400 €.
Discounted price is 240 €!
Blockchain & Bitcoin Conference France is fully dedicated to decentralized technologies, cryptocurrencies and ICO. By visiting the event, you will get:
More knowledge on blockchain and ICO.
A possibility to establish business ties, communicate with well-known crypto experts.
A chance to make a name for your company.
Leading blockchain enthusiasts, financiers and crypto investors will gather within the event to contribute to the global development and popularization of the blockchain technologies.
---