How Can Blockchain and GDPR Exist Together? The Answer from Thibault Verbiest, Partner DS Avocats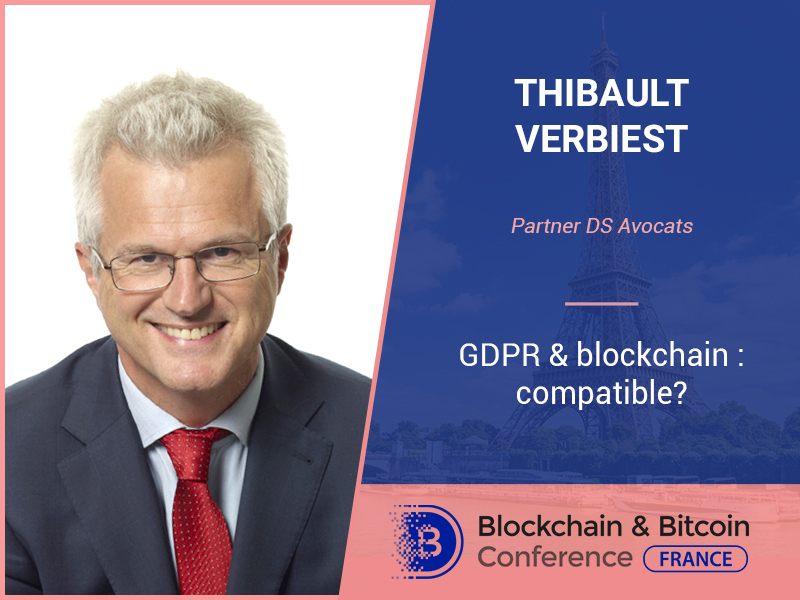 The Recent General Data Protection Regulation (GDPR) is already transforming many business aspects of different companies. But does the regulation mean for Blockchain?
At the Blockchain & Bitcoin Conference France, Thibault Verbiest – Partner DS Avocats – will look at the GDPR's influence on DLT-companies in details.
Main points:
the way to achieve compliance with GDPR within the current legal framework;
challenges met by companies trying to build GDPR compliant solutions based on blockchain;
Blockchain's ability to enable data protection and privacy by design.
Thibault Verbiest is the expert in DLT, fintech and cryptofinance. He is also a specialist in digital banking, e-commerce and cybersecurity.
Verbiest has over 25 years of experience in the legal sphere dealing with personal data protection laws and regulations.
Currently, the speaker is a partner at DS Avocats, where he is leading teams dealing with IT, GDPR, ICOs, and exchanges. He is also a member of the advisory board at European Blockchain Observatory and Forum, and the legal advisor at Olymp Capital.
He is also the co-author of several books, including the first book on blockchain in French and the seminal piece 'Fintech et Droit'. He regularly contributes to the public debate on blockchain and is a speaker at fintech-blockchain focused events.
---
Interact with the speaker and find out more about coexistence of Blockchain and GDPR at the conference!