Blockchain for Industrials and Governments: Laurent Leloup, Founder & CEO at Chaineum, Will Discover Possibilities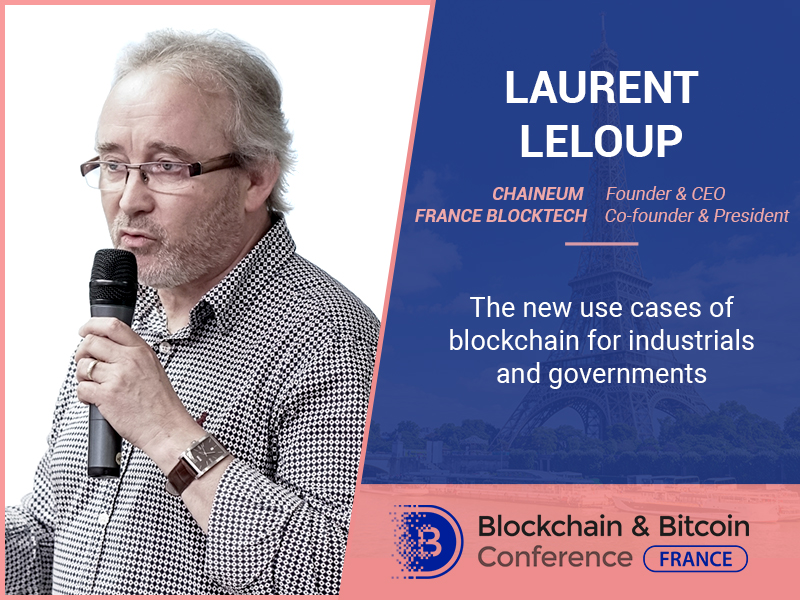 Decentralized technology has come into a number of diverse industries and spheres. One may think that everything has been influenced by blockchain by today, however, there are still fields to discover. How can blockchain be used for industrial and government operations? At the Blockchain & Bitcoin Conference France, Laurent Leloup, Founder & CEO at Chaineum, will deliver a presentation "The new use cases of blockchain for industrials and governments" where he will provide suggestions for new possibilities.
Main points:
What is the current state for industrials and governments? The pain points?
What can the blockchain bring to those institutions?
How, as of today, only a few actors are taking the step to build these innovations.
How Chaineum helps such actors to conduct their projects.
Laurent Leloup is the entrepreneur and ICO advisor. He is also a finance expert, having an experience of 25 years in the sphere. Currently, he is the founder and CEO at Chaineum, a company dealing with consultations on cryptofinance, tokenization and initial coin offering strategy development.
Apart from that, the expert is also a founder and CEO at blockchain ecosystem orhanization France Blockchain. Moreover, Laurent is the expert consultant for the French Tax Collection Agency and the Legal High Committee for Financial Markets of Paris (HCJP). He is a welcomed speaker at many conferences dedicated to the sphere, and the author of the book "Blockchain, la révolution de la confiance" [Blockchain, the trust revolution].
---
Meet the speaker and look into the new ways of the decentralized technology implementation at the conference! Discover more ►►►